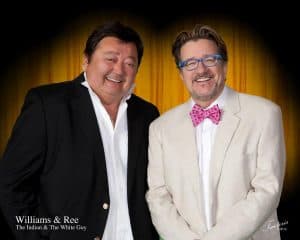 Comedy duo, Williams and Ree, discuss their storied comedy career that started in Spearfish, SD in 1968 and still continues 52 years later. From their early days as openers to regional musical acts to their rise as national headliners, Bruce and Terry share insights into their career longevity, creative process and memorable shows.
---
Listen & Subscribe to the Podcast: iTunes Stitcher TuneIn
---
Williams & Ree aka The Indian & The White Guy
Since connecting through music at Black Hills State University in Spearfish, South Dakota, Bruce Williams and Terry Ree, aka,. The Indian and The White Guy, have been entertaining audiences for over 52 years. Bruce, (the white guy) and Terry (Sioux), now hold the distinction as the longest performing standup duo in comedy history.
Multi talented musicians, vocalist and joke writers, Bruce and Terry were gracious enough to join me on How Does That Happen to discuss their careers, their passion for comedy and their insights on the entertainment world. Their impressive resume includes appearances on Classic TV shows like Hee Haw and Don Kirshner's Rock Concert as well as their own independent films; Williams and Ree; The Movie and Totem Ree Call.
52 Years of Comedy Performing Together
They've opened for Garth Brooks, had a cooking show with Florence Henderson (Mrs. Brady from the Brady Bunch), and performed from International Falls, Minnesota to Las Vegas. Through it all, they've maintained their love of comedy, music, and performing together. 52-years later, their chemistry, banter, and timing are still as strong as ever.
Bruce & Terry Also Discuss:
Being inspired by the comedy duo, Dennis and Cree
Working with Florence Henderson (Mrs. Brady from The Brady Bunch) on the TV show, Country Kitchen
How Country influenced their musical direction
Getting fired between shows at Dollywood
What they learned from Rowan and Martin; and The Smothers Brothers
Links from this Show:

Youtube For Williams & Ree
How Does That Happen on iTunes
Visit Content Spew
---

We love to hear from you! Share your thoughts with us by leaving us a 5-star review on iTunes!
---
Where can I see Marc Yaffee Live?
Marc Yaffee performs live all over the United States, Additionally, make sure to keep an eye out for his international performances as well. Check his calendar to view his tour schedule and make plans to see him in a city near you!
Get Social with Marc
Book Marc for Your Next Event
Marc Yaffee is ready to make your next event laugh-out-loud funny. Marc has numerous endorsements and personal testimonials. For more information, you can view or download Marc's resume.
To book Marc, call (707) 489-5561. You can reach out to Marc Yaffee on his contact page, email him at info@bookmarcnow.com, or connect with Marc directly via LinkedIn.