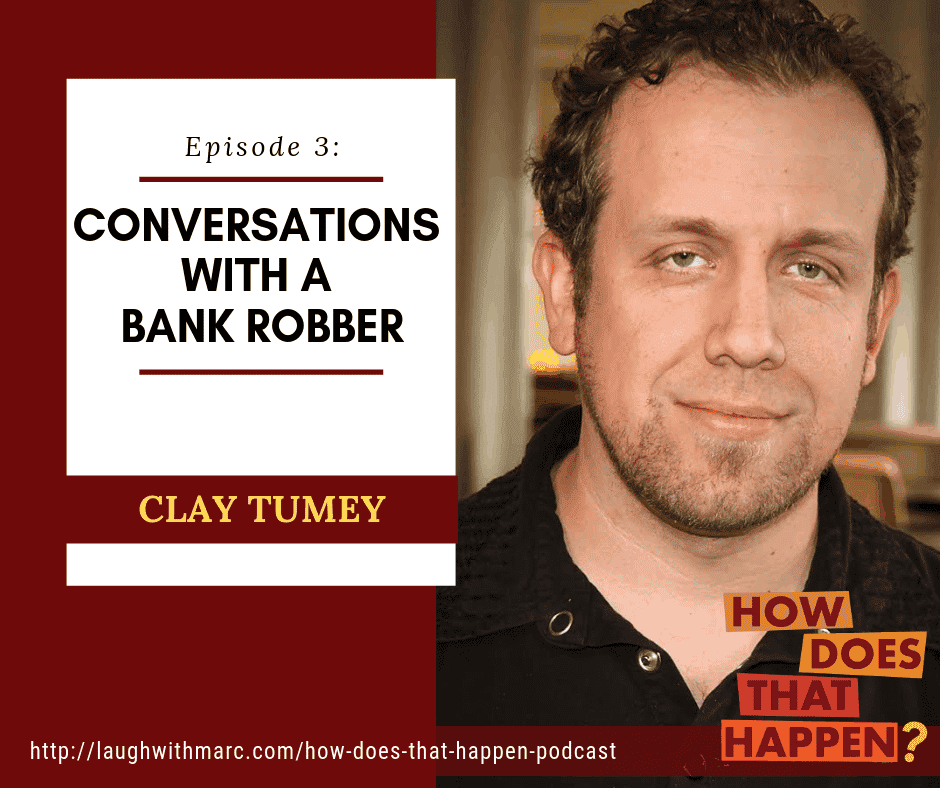 Clay Tumey shares his journey from a gainfully employed mechanic to criminal bank robber and back to law-abiding citizen
---
Listen & Subscribe to the Podcast: iTunes Stitcher TuneIn
---
Episode 3 – Conversations with a Bank Robber
Clay Tumey began robbing banks after carefully researching what lead people to get caught in the first place. Clay robbed a number of banks over the course of a year with the information he had gained. Surprisingly, Clay never got caught! However, Clay decided to turn himself in and change his life after the birth of his son.
Eventually, Clay plead guilty to three bank robberies and served both state and federal prison time. Clay shared his journey from gainfully employed mechanic to criminal bank robber, and back to law-abiding citizen with us. It's quite the story, so make sure to check it out.
Bank Robber Clay Tumey also Discusses:
Growing up in a family with bank employees
Researching the process of robbing banks and what caused people to get caught
How a case of mistaken identity had his brother's neighbor cop brought in as a suspect in Clay's robberies
The methods and strategies Clay employed to avoid getting caught
What Clay did with the money from his heists
Why having a child changed his perspective on his criminal activities
His time in prison and life now
Links from this Show:
How Does That Happen on iTunes
Visit Content Spew
---
Learn About Bank Robber Clay Tumey:
Clay Tumey is an award-winning poet from Texas who has always preferred the road less traveled. He completed high school in just five years after spending three of those years in the ninth grade alone. Clay turned to a life of crime at the age of 26 after struggling to find fulfillment at work and at home. As a result, he spent the next year running from his life, his family, and himself.

Clay was born on the 4th of July, however this is not the day he celebrates his birth. Instead, Clay now celebrates his own freedom on August 31—the date he was released from prison in 2010. He is living proof that a successful man can indeed begin his journey as a nameless inmate. Unsurprisingly, after turning his life around, he is especially committed to serving those who have lost all hope.

Currently, Clay Tumey has two sons and one ex-wife. He and his sons live a quiet life together near Dallas, TX.

We love to hear from you! Share your thoughts with us by leaving us a 5-star review in iTunes !
---
Enjoy Episode 3 of How Does That Happen! Make sure to keep an ear out for Marc Yaffee's interview of stand-up comedian, Sammy Obeid. Sammy holds a record for performing stand-up comedy for 1,003 consecutive days straight.
---
Where can I see Marc Yaffee Live?
Marc Yaffee performs live all over the United States, Additionally, make sure to keep an eye out for his international performances as well. Check his calendar to view his tour schedule and make plans to see him in a city near you!
Get Social with Marc
Book Marc for Your Next Event
Marc Yaffee is ready to make your next event laugh-out-loud funny. Marc has numerous endorsements and personal testimonials. For more information, you can view or download Marc's resume.
To book Marc, call (707) 489-5561. You can reach out Marc Yaffee on his contact page, email him at info@bookmarcnow.com, or connect with Marc directly via LinkedIn.