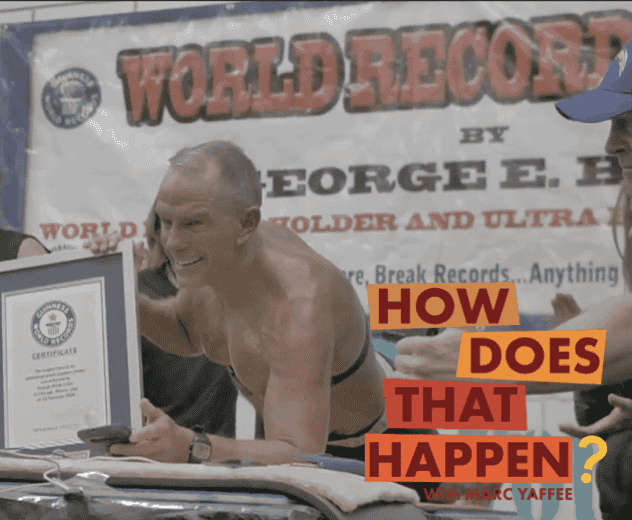 At a time when most 60-somethings are easing into retirement, enjoying a slower pace of life and reducing their physical activity, George Hood is having none of it. The 62-year-old planking champion, is on a mission to challenge himself and others to improve their physical and mental health. With his personal mantra of "Set Goals, Keep Score, Break Records…. Anything Else is Just Exercise," Hood is dispelling the popular misconception that the older you get the more you should take it easy. Training for up to eight hours a day in his "golden years," Hood's dedication to physical fitness and mental discipline has resulted in him achieving 13 world records, training other endurance athletes and raising money for charity in the process.
---
Listen & Subscribe to the Podcast: iTunes Stitcher TuneIn
---
Planking Champ George Hood
George Hood is an ultra-endurance athlete from Naperville, IL most recently known for his Guinness World Record for planking 8 hours 15 minutes and 15 seconds. But that's not all! In Addition to his planking world record, Hood has achieved 13 world records. These include rope jumping and stationary bike riding in addition to planking.
The 62-year-old former Marine Corps officer and retired DEA Supervisory Field Agent trains up to 8 hours a day while living his motto of, "Set Goals, Keep Score, Break Records… Anything Else is Just Exercise!" Hood's world record attempts have also raised money for numerous charities during his 30-plus-years record chasing endeavors.
13-Time World-Record Holder
While preparing for his most recent planking World Record, George did over 2,100 hours of planking and worked with a cognitive-behavioral therapist to mentally prepare himself. Additionally, nearly all of George's record attempts have been accompanied by a fundraising component. He frequently raises money for diverse groups ranging from the American Heart Association to special needs kids and Concerns of Police Survivors (COPS).
George Hood also discusses:
Mental techniques to power thru his world record attempts
Philosophy on age and fitness
Daily exercise discipline
Being able to train other endurance record seekers
Links from this Show:

Visit George's Instagram page.
How Does That Happen on iTunes
Visit Content Spew
---

We love to hear from you! Share your thoughts with us by leaving us a 5-star review on iTunes!
---
Where can I see Marc Yaffee Live?
Marc Yaffee performs live all over the United States, Additionally, make sure to keep an eye out for his international performances as well. Check his calendar to view his tour schedule and make plans to see him in a city near you!
Get Social with Marc
Book Marc for Your Next Event
Marc Yaffee is ready to make your next event laugh-out-loud funny. Marc has numerous endorsements and personal testimonials. For more information, you can view or download Marc's resume.
To book Marc, call (707) 489-5561. You can reach out to Marc Yaffee on his contact page, email him at info@bookmarcnow.com, or connect with Marc directly via LinkedIn.