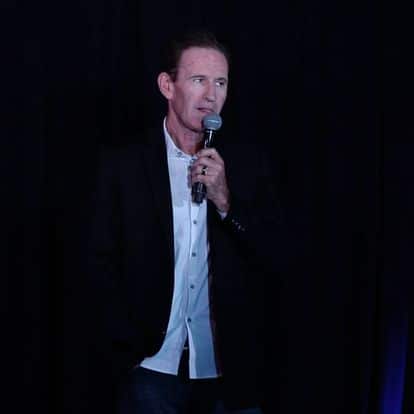 Keith Nelson shares his life adventures that have included world track and field records, a TV sitcom, martial arts mastery and of course, his successful standup career. This episode with Keith came in at 59 minutes, the longest ever on How Does That Happen. However, with his banter, humor and stories, the episode definitely seemed too short.
---
Listen & Subscribe to the Podcast: iTunes Stitcher TuneIn
---
Comedian, Actor, Black Belt, High Jumper
Keith Ross Nelson is a known comedian who has performed in all 50 American states and worldwide. From colleges and cruise ships to comedy clubs and more, he has shared his brilliant jokes for the last three decades. His success in the comedy industry led to his appearance in several independent hit movies like Mobsters and Mormons and The R.M.
Keith Ross Nelson
The stand-up comedian has been featured in Entertainment Tonight and has performed on the Hulu Comedy Show Comedy Time and A and E's An Evening at the Improv. Much of his act revolves around the beginning of getting old. Keith loves to poke fun at growing with older, yet his comedic act and material feature a young, cool, and hip style. .
Keith Also Discuss:
Attending track and field powerhouses, Oregon and San Jose State
Being at University of Oregon when Nike Founder, Phil Knight, was selling shoes out of the back of his car
Earning his Third-Degree Black Belt
Caring for 24 rescue cats with his wife
Links from this Show:

How Does That Happen on iTunes
Visit Content Spew
Keith Ross Nelson New York Weekly Article
---

We love to hear from you! Share your thoughts with us by leaving us a 5-star review on iTunes!
---
Where can I see Marc Yaffee Live?
Marc Yaffee performs live all over the United States, Additionally, make sure to keep an eye out for his international performances as well. Check his calendar to view his tour schedule and make plans to see him in a city near you!
Get Social with Marc
Book Marc for Your Next Event
Marc Yaffee is ready to make your next event laugh-out-loud funny. Marc has numerous endorsements and personal testimonials. For more information, you can view or download Marc's resume.
To book Marc, call (707) 489-5561. You can reach out to Marc Yaffee on his contact page, email him at info@bookmarcnow.com, or connect with Marc directly via LinkedIn.