This year, I celebrated my 20 year comedy anniversary. 20 years from the first time I got up on an open mic at Laughs Unlimited in Sacramento, CA. 20 years since making four people out of the dozen audience members laugh maybe four times. However, this was just enough to suck me into this dysfunctional stand-up comedy business.
20 years later, I can reflect and report, I've simultaneously had the most unremarkable and amazing comedy career. Over 5,000 shows, 43 states, and 11 countries later, I've put on enough miles to qualify as a trucker and been rejected enough times to earn five lifetimes of therapy. I may be the only comedian to perform on land, sea, and air (11 countries, cruise ships and a 10-minute set on Alaska Airlines at 30,000 feet). And I'm certain I'm one of only two comedians to sneak onto an aircraft carrier in the Middle East.
20 Years in Comedy
I've performed for state governors and juvenile inmates. I've had my picture on a marquee on the Las Vegas Strip and performed in an actual tool shed. I've been called a "can't miss," a "nice guy" (comedy-speak for not so funny), and a "novelty" (I thought that was something you buy your grandma at Hallmark). Some would label my comedy career a failure. Heck, I still do on many occasions.
I've had a sitcom pilot go nowhere, dozens of scripts rejected multiple times and hundreds of passes on submissions to clubs, festivals, TV slots, and fairs (should have applied for the balloon animal maker at the fairs evidently). Other people say I'm a success just based on the fact that I'm still making a living in comedy after 20 years in an industry over-saturated by wannabees, low-ball artists and cut-throats.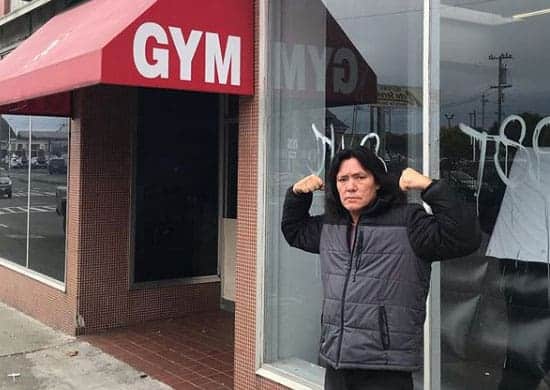 How do You Measure Success?
Is success measured by the years I've been able to do comedy full-time (12 plus years)? If so, then I guess I'm a mild success. Does success mean I was able to perform the evening after getting food poisoning and throwing up blood? If so, then hell yeah, I'm a success. Does it mean getting to do comedy on a flat-bed truck in Iraq for Marines while getting my head shaved? How about getting paid for telling jokes standing on a rock for an outdoor tribal gathering? If that's the case, then yes, I'm guilty of that success as well.
To be honest my career has been more about survival than success. Surviving the highs and lows that only a craft like comedy can inflict. Like performing for 1,500 people in a theater one night and 14 people in a coffee house the next. Or sleeping in a five-star hotel one night and sleeping in the airport or in your car the night after.
A Tough Industry
Despite the financial uncertainty, crummy bar food, and questionable comedy condos, I wouldn't trade my career choice for any amount of financial stability. There's something utterly liberating about waking up on the road in a Super 8 knowing that you don't have to answer to a corporate chain of command or sit through an insufferable productivity seminar.
I've heard it said that you can't put a price on happiness, but I would say I have. It's a couple of zeroes off my retirement account. It's free breakfast at a Holiday Inn Express the morning after making 100 or so souls forget about their troubles and crappy jobs for a moment.
Maybe I'll stop doing comedy when I'm fed up battling for work at comedy clubs more worried about their craft beer than supporting the craft of comedy. Maybe I will quit after getting the Netflix special I had given up on. Or after selling the script I thought no one believed in. Or maybe, just maybe, I'll ride this stand-up thing out to the end of my days and die laughing.
Book Marc for Your Next Event
Marc Yaffee is ready to make your next event laugh-out-loud funny. Marc has numerous endorsements and personal testimonials and his resume can be viewed here.
To book Marc, call (707) 489-5561. You can reach out to Marc Yaffee on his contact page, email him at info@bookmarcnow.com, or connect with Marc directly via LinkedIn.