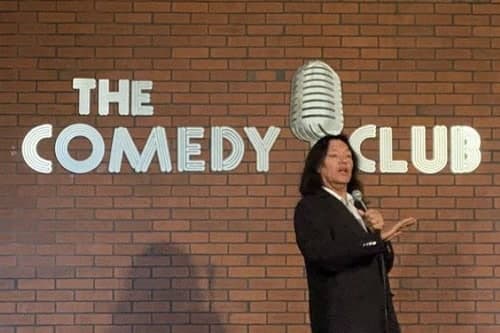 It's hard to find good local entertainers in the Reno area. Whether you're looking for musicians, performers, or comedians, there's a lot of rinky-dink operations out there. Lucky for you, you've got an internationally-known comedian right in your backyard. And now that things are opening back up as the COVID pandemic comes to a close, you too can book Reno comedian Marc Yaffee for your next special event.
What Marc's Been Up To
Despite the pandemic, 2020 was a landmark year for Marc, gaining a large internet presence on TikTok where he now boasts nearly 70,000 Followers and over 1,000,000 Likes! That's an impressive feat and it proves that even in the worst of times, Marc Yaffee spent his days making people all over the world laugh like crazy. And now, with that newfound social media presence, Marc has been jumping back into tour mode, just like nothing had changed.
Since April, Marc has been touring all over Oregon and now he's in Washington for a string of shows. But just because he's been out of state for much of that time doesn't mean he's lost his roots. Marc loves playing local events as well and is a favorite at many of the Reno and Lake Tahoe comedy clubs in the area.
Book Reno Comedian Marc Yaffee
It goes without saying. If you're looking to have a comedian perform at your special event, corporate meeting, wedding, or more, there's no better choice for a unique, humorous experience. Book Reno comedian Marc Yaffee and treat your guests to something truly special. Something intimate. Something they'll remember for years to come.
If you really want to dazzle your guests and make the night one to remember, comedy really does the trick. And Reno comedian Marc Yaffee has the skills to make your next event one for the record books. Choosing comedy is a wise decision when it comes to booking an entertainer. Additionally, comedy loosens a crowd up and gets them ready to socialize. It's a fantastic ice-breaker for meetings and for gatherings where people might be a bit bored or on edge. Best of all, comedy does all this without alcohol. Although that's always a fun and enlivening option to add to any gathering.
So, if you've been thinking about booking a Reno comedian for an upcoming event, get ahold of one of Reno's comedic gems and have him appear and your next party. Your guests will love it and you won't regret it!
About Marc Yaffee
Marc Yaffee's diverse comedy career has landed him in 43 states and 11 countries spanning 4 continents. Additionally, Marc may be the only comedian with the distinction of air, land and sea comedic credits. Marc Yaffee has been featured on PBS, Showtime, DryBar Comedy, Comics Unleashed with Byron Allen, and NativeFlix; just to name a few. Additionally, Marc is a proponent and supporter of the troops. Marc Yaffee has performed six times overseas for AFE (Armed Forces Entertainment). This includes the Pacific, Europe, the Far East, and the Middle East.
Book Marc Now
Marc Yaffee combines clean, hilarious humor like no other comedian working today. From conventions to conferences, meetings, and team-building exercises, Marc is and continues to be the first choice in professional live comedic entertainment.
Marc has numerous endorsements and personal testimonials and his resume can be viewed here.
To book Marc, call (707) 489-5561. You can reach out to Marc Yaffee on his contact page, email him at info@bookmarcnow.com, or connect with Marc directly via LinkedIn.