They say that variety is the spice of life. One can also say that diversity is the spice of comedy. Marc Yaffee has applied his own diversity to his craft of stand-up, developing a style of comedy that has entertained audiences of diverse backgrounds across the globe in settings ranging from tribal casinos and comedy clubs to mountainsides, museums and military bases.
Diversity was a hallmark of Marc's upbringing. He was adopted out at birth (Pre-Indian Child Welfare Act) to a Mexican-American mother and Jewish father and learned of his Mexican, Irish and Navajo roots at age 25. Marc used his adoption and ethnic background as a springboard to a comedy career that has spanned 19 years, 12 countries and thousands of shows.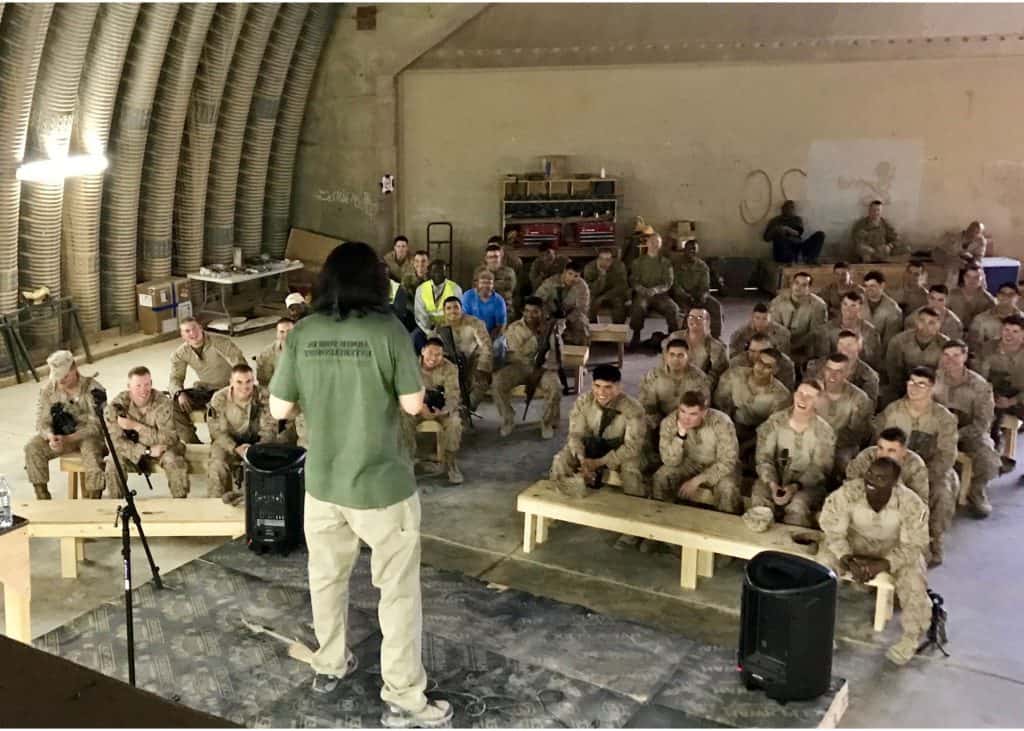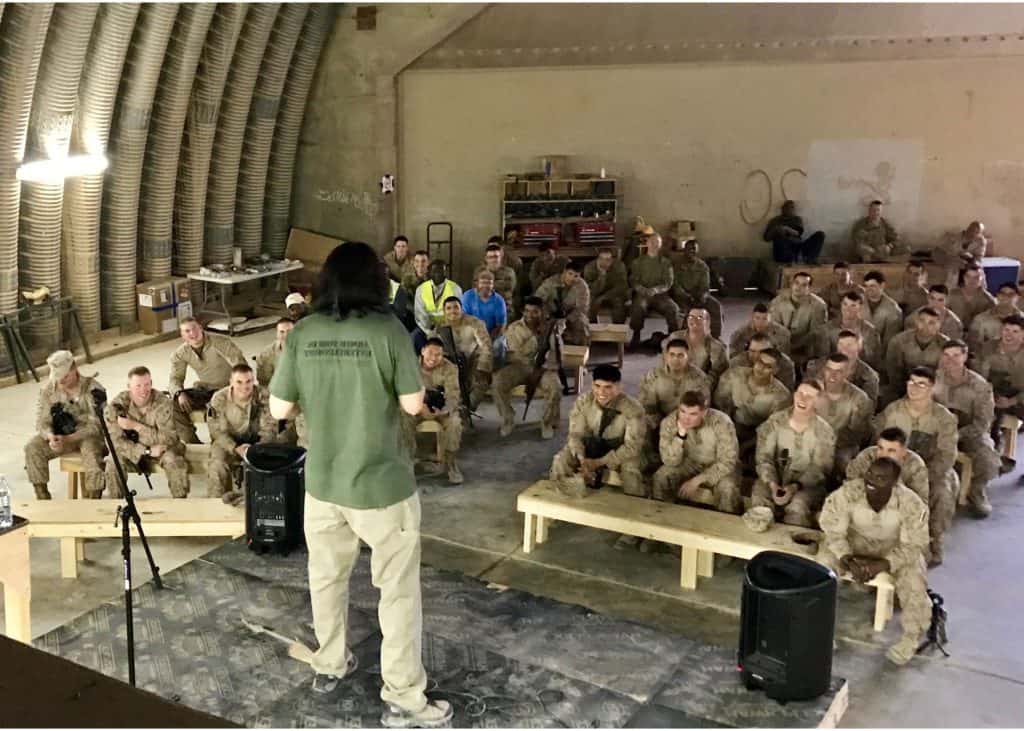 Diversity has been a mainstay of Marc's career. Marc can confidently say he's the only comedian who has performed at an U.S. Army Cafeteria in Iraq during a blackout as well as entertaining Tribal dentists at the Smithsonian Museum for the American Indian.
"All of my nearly 20 years in comedy has taught me that each audience deserves the best show no matter what the circumstances," says Marc. "When I'm hired to do comedy, it's not about my needs or validation, it's about making sure I give every audience a show that takes them away from the stress or pressure of their lives during the time I'm onstage."
Diversity is Needed in Comedy
Let's be honest: we live in a time where politics and differences of opinion are used to divide us as people. Diversity in comedy, when done right, helps bring audiences together in laughter.
"When it comes to diversity in comedy, I might be the poster child," Marc says. "I've performed for all-military audiences, all-Native American audiences, high school sober grad groups. I even once did a show for a business group of first-generation Sikhs from Punjab State in India."
One of the greatest challenges for event managers looking to book a comedian, is finding a comedian who can read an audience and adapt to them with the right attitude and delivery. This is particularly important when the audience contains individuals of various backgrounds and beliefs, or for corporate events where the comedy needs to be clean. Marc understands his role in meeting these needs.
By poking fun at his own diverse background and upbringing, Marc shows audiences that if we can laugh at ourselves, we can laugh with each other. His goal onstage is to always entertain not offend.
"When you book Marc, you never have to worry that the job will be well done. Oh, and he's funny too." – Pat Wilson, Comedy West
Understanding Diversity in Indian Country and Beyond
With over 500 sovereign nations across the United States, Indian Country has its own wealth of diversity. It's important that entertainers can understand and relates to the many different audiences in Indian Country. Marc has been fortunate enough to entertain a diversity of groups across the Four Directions, ranging from tribal leaders to individuals in recovery to elders and all-ages celebrations. Marc's experiences allow him to adjust for the group he is hired for. And if he doesn't feel he is the right fit for an event, Marc is always open to helping a tribal organization find someone who is.
"Everything turned out great. I received many, many compliments on Marc's show." – Tammy Meshigaud, Director, Hannaville Indian Community
A Unique Performance, Tailored for Any Audience
In our first article, "Marc Yaffee – Tall, Dark and Hilarious", we talked about Marc's comedic adaptability for a variety of groups and events. Marc is known for always performing a great show regardless of his audience or the function for which he's booked.
"When I come to an event, my job is not just to entertain the audience but to help the staff putting on the event in anyway I can," says Marc. "It might be offering to introduce speakers who go on before I do or recommending a slight adjustment to the seating arrangement of the audience. I'm there to be an extra set of eyes and ears."
"Marc is the greatest. We have had him at our functions for a few years now and he always has new material. I highly recommend him for your next function." – Naomi Turner, Executive Director, Lassen County Farm Bureau
All the World's a Stage for Marc Yaffee
Marc Yaffee has developed a fearless flexibility, not only in his ability to perform for different audiences and events, but also his comfortability performing on different stages.
"Playing Vegas clubs and casinos is great," Marc begins, "but there's something extra satisfying about making an audience laugh in less than ideal conditions, not even remotely set up for comedy to succeed."
Marc has performed in a variety of locales from the unusual to the unexpected. Marc's six overseas tours for Armed Forces Entertainment included one surreal performance where he did comedy on the back of a flatbed truck while getting his shoulder-length hair shaved down to a buzz cut.
In another "non-traditional" performance, Marc did a 10-minute show for passengers on an Alaska Airlines flight to Juneau to promote a show he was doing. Marc describes it as an experience that gave him as many laughs as it did his flight passengers.
"During my set, I'm pretty sure I heard an elderly lady say, 'Are you listening to this? I think the pilot has been drinking.'"
Wherever, whenever and however, Marc's approach to comedy takes diversity to a whole new level.
"It's always a great show when Marc performs for us." – Amy Ramos, Entertainment Director, Coyote Valley Casino
Book Marc for Your Next Event
Marc Yaffee is ready to make your next event laugh-out-loud funny. Marc has numerous endorsements and personal testimonials and his resume can be viewed here.
To book Marc, call (707) 489-5561. You can reach out to Marc Yaffee on his contact page, email him at info@bookmarcnow.com, or connect with Marc directly via LinkedIn.