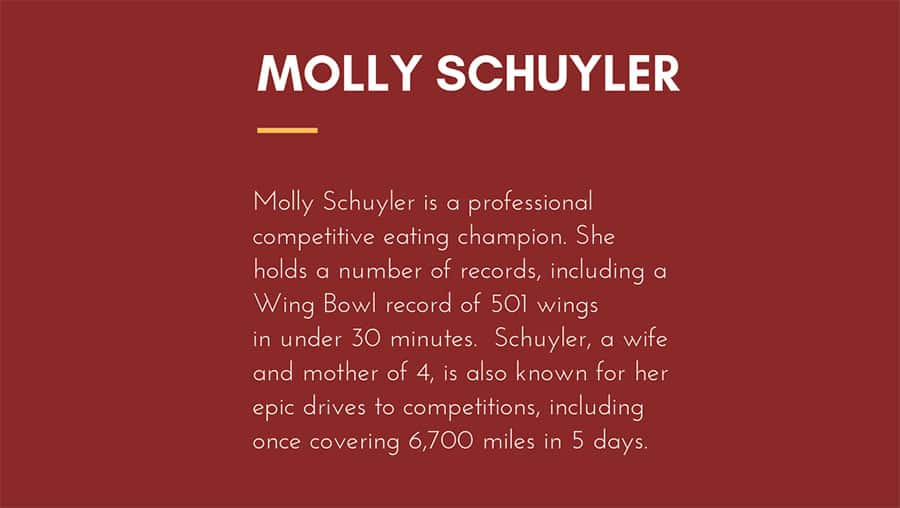 Hey everyone. Marc Yaffee here, and I'm finally back with Episode 6 of my "How Does That Happen" podcast. This episode spotlights Competitive Eating Champion, wife, mother of four, and former Vegetarian, Molly Schuyler. She is a not-so-average mom with a way-above-average ability to eat massive quantities of food at a professional level.  Like, massive quantities of food. As in 501 boneless chicken wings in 30 minutes; three 72-ounce steaks in 20 MINUTES; and 8lbs of cottage cheese in 75 seconds. Wow!
Recognized as the Number 1 Female Speed Eater in the world (Yes, that's a thing), Molly Schuyler shares her journey from waitress getting paid to serve food to world-class professional getting paid to eat food. This might be my favorite episode so far. Molly brings a great personality, a kick-ass attitude and a refreshing sense of humor. And as a side note, some of the audio was a little rough (no, not the language) but like any new podcast, we are in a learning curve. We promise the technical learning curve will improve. Unfortunately, I can't make that promise for the hosts.
---
I hope you enjoy this episode of "How Does That Happen" and will share it with your family and friends. Feel free to leave a review on iTunes or whatever platform you're listening on.
---
Where can I see Marc Yaffee Live?
If you're interested in seeing Marc perform live, check his calendar to see when he'll be appearing in a city near you!
Book Marc for Your Next Event
Marc Yaffee is ready to make your next event laugh-out-loud funny. Marc has numerous endorsements and personal testimonials. For more information, you can view his resume.
To book Marc, check out his contact page or call (707) 489-5561. You can also email him at info@bookmarcnow.com or connect with Marc directly via LinkedIn.