Comedian Jeremy Nunes Got Elected Mayor of His Hometown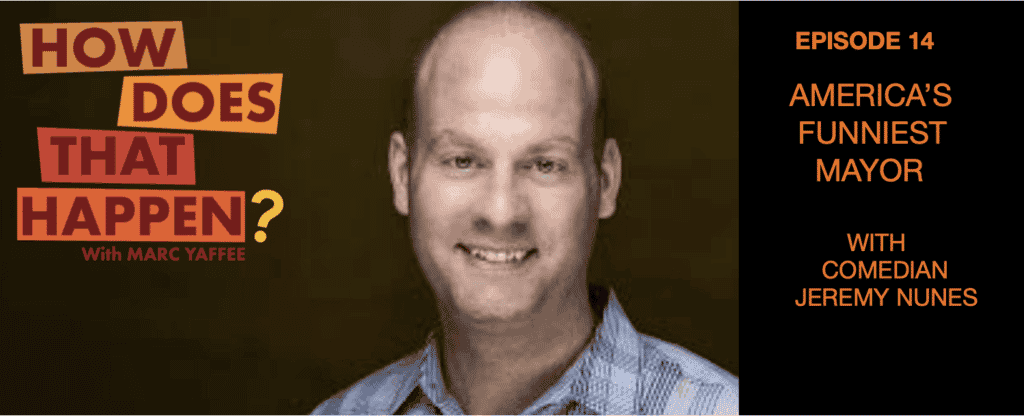 Episode 14 America's Funniest Mayor with Comedian Jeremy Nunes
If you've been around as many comedians as I have over the past 21 years, you come to realize they are a diverse bunch with a variety of previous jobs. Additionally, they have bizarre backstories and unusual career twists. Episode 14 Guest, Jeremy Nunes, is no exception. He may have had one of the best career twists ever for a comedian; a side hustle as mayor of his hometown, Dawson, IL. A side hustle. However, it turned into a nearly full-time job. For part-time pay.  
Big Dreams, Small Town Campaign
This wasn't a money-seeking venture for Jeremy as much as a labor of love. He saw his hometown of Dawson, needing an infusion of fresh leadership and ideas. So, at the ripe age of 29, when most Millennials are thinking about Fortnite, Jeremy was thinking about Meet The Candidate Night. He successfully ran for a seat on the Dawson City Council and got elected as an Alderman. Two years later, at age 31, Jeremy threw his hat into the ring for Mayor.
With the help of a buddy who was a professional political strategist, Jeremy hit the campaign trail and canvassed his entire town for votes, in about four hours. Okay, for the record, Dawson, IL has a population of 500. On top of that, Jeremy is related to about 100 of the town's residents. So he had a pretty good chunk of the town already on his side. When election night rolled around, Jeremy defeated the 20-plus-year incumbent Mayor, by getting 80 percent of the vote.
Mayor, Comedian, Multi-tasker
Jeremy broke down his decision to enter politics and the trials and tribulations of being a small town mayor. Plus, how he managed to balance a career, new marriage and growing family, all while leading the town government and giving directions to municipal employees twice his age.
In addition to great stories about his political career, Jeremy touches on his Dry Bar comedy special, teases his upcoming book and Amazon Prime special and gives a funny insight into small-town, Mid-America living. Too bad we can't have more funny humble and intelligent people in politics like Jeremy.
Enjoy Episode 14 and be sure and leave a comment on the How Does That Happen Facebook page or at whatever podcast platform you're hearing this on. Thanks again for listening.
Jeremy Nunes Front-Porch Comedy
Jeremy Nunes, is a comedian hailing from Dawson, IL. The 18-year comedy veteran has not only toured across the country performing stand-up but he served two years as Town Alderman before being elected Mayor of Dawson. A week after winning the election, Jeremy married his wife and went on to serve a four-year mayoral term while still doing stand-up and starting a family.
While Nunes dealt with zoning issues, municipal workers, and other mayoral duties, he and his wife had two children. Meanwhile, he continued doing stand-up comedy during his term. Jeremy Nunes is currently finishing up a soon to be released book about his time in office. Recently, he's was featured on Dry Bar Comedy. His new comedy special will be coming out soon on Amazon Prime.
Enjoy Episode 14 of How Does That Happen! Be sure to comment on the How Does That Happen Facebook page as well. Thanks again for listening!
---
I hope you enjoy this episode of "How Does That Happen" and will share it with your family and friends. Feel free to leave a review on iTunes or whatever platform you're listening on.
---
Where can I see Marc Yaffee Live?
If you're interested in seeing Marc perform live, check his calendar to see when he'll be appearing in a city near you!
Book Marc for Your Next Event
Marc Yaffee is ready to make your next event laugh-out-loud funny. Marc has numerous endorsements and personal testimonials. For more information, you can view his resume.
To book Marc, check out his contact page or call (707) 489-5561. You can also email him at info@bookmarcnow.com or connect with Marc directly via LinkedIn.