Keith Ross Nelson Raises the Bar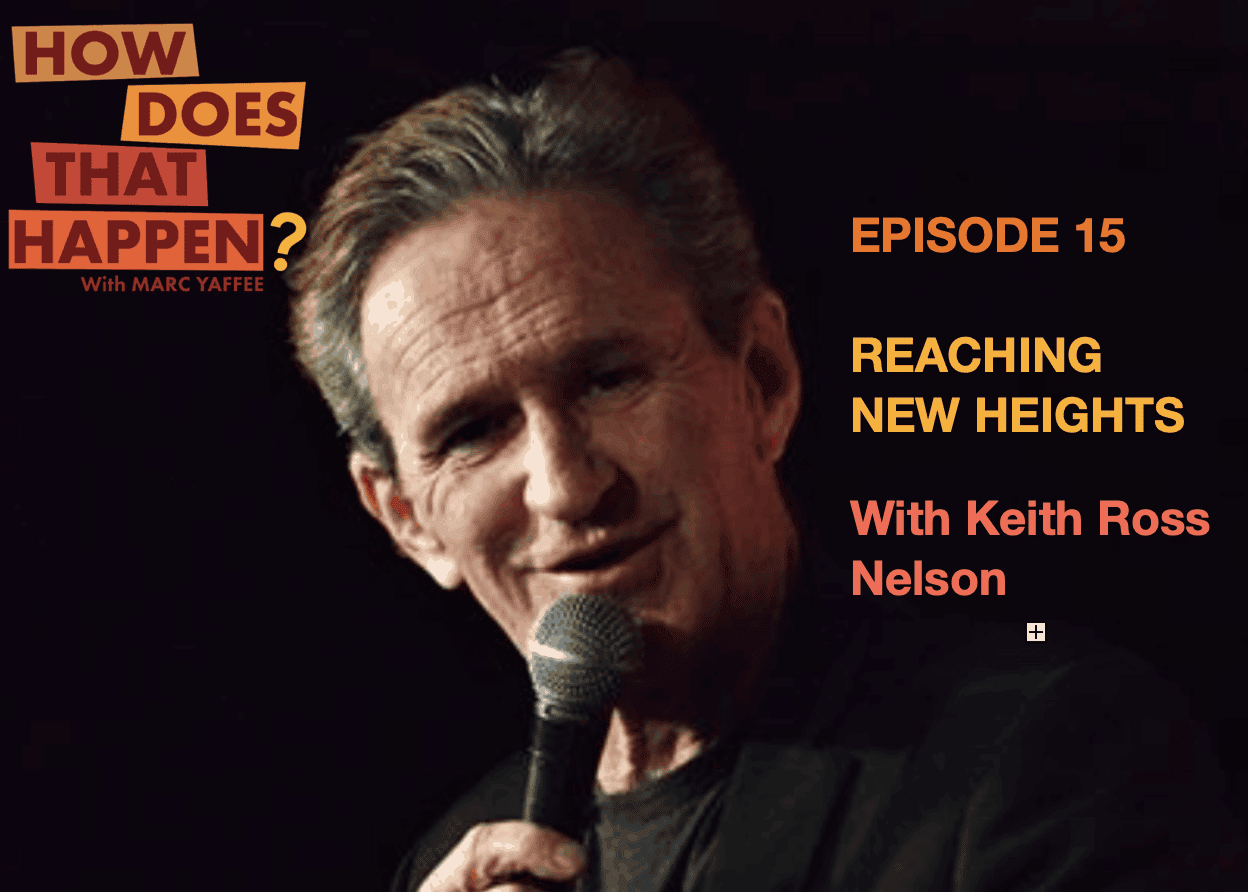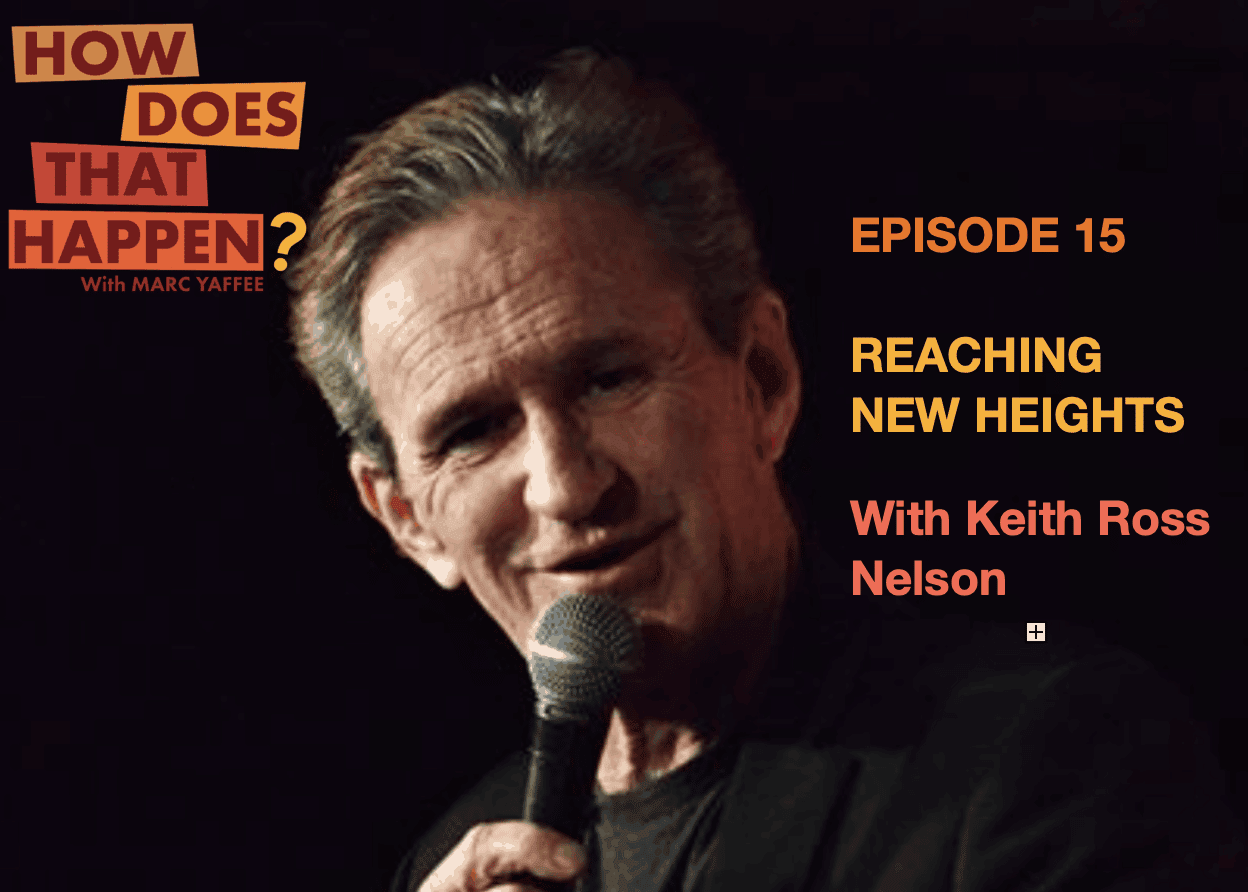 Episode 15 Reaching New Heights with Comedian Keith Ross Nelson
A word you don't hear so much anymore is, prodigious. Prodigious definitely applies to my Episode 15 guest, Keith Ross Nelson. From creative endeavors to athletic accomplishments, Keith's impressive resume is surpassed only by his humility and thoughtful insight.
Keith has been a friend in standup comedy for many years. We first met at his home club, Ventura Harbor Comedy Club. Not only was he hilarious onstage but genuine and fun to talk with offstage. He's been a successful touring stand-up for years but until recently I didn't really know of his successes outside comedy until I saw a post with a link to an article about Keith in the New York Weekly. In addition to his extensive comedy resume, Keith was a Division 1 college track star (Univesity of Oregon and San Jose State); held a Master's high jump record at age 45, and earned a third-degree black belt in Kung Fu. To boot, he wrote and starred in his own TV sitcom, Electives. 
I am pretty sure Keith is the only person I will ever meet who high jumped over seven feet, earned a black belt and starred in his own sitcom. Oh and he and his wife have 24 cats that they rescued and care for. Enjoy this very engaging episode of How Does That Happen with guest, Keith Ross Nelson.
Renaissance Man
Comedian Keith Ross Nelson
Keith Ross Nelson is a Southern California-based comedian who has performed in all 50 American states and five continents. From colleges and cruise ships to comedy clubs and more, he has shared his brilliant jokes for the last three decades. His success in the comedy industry led to his appearance in several independent movies, including, Mobsters and Mormons and The R.M. Nelson has been featured in Entertainment Tonight and has performed on the Hulu Comedy Show Comedy Time and A and E's An Evening at the Improv. Much of Keith's act revolves around the beginning of getting old. Keith loves to poke fun at aging, yet his comedic act and material feature a young, cool, and hip style.
This Renaissance man (Comedian/Actor/Athlete/Black Belt), takes pride in having a different point of view most mainstream comedians. He embraces topics others won't like aging. Although he's now 63, Keith points that he gets the best responses to his stand-up performances from 25 to 30 years olds.
Aside from his career in comedy, Keith Ross Nelson is also a director, co-writer, and star of the TV series Electives. He is also a successful sportsman. He is a former Masters High Jump Record Holder in his age group and a three-time national champion. In 1998, he landed second place in the World Championship. In 2000 and 2006, he placed first in indoor and outdoor jumping competitions. he earned his third-degree black belt in Kung Fu.
Enjoy Episode 15! Be sure to comment on the How Does That Happen Facebook page as well. Thanks again for listening!
---
I hope you enjoy this episode of "How Does That Happen" and will share it with your family and friends. Feel free to leave a review on iTunes or whatever platform you're listening on.
---
Where can I see Marc Yaffee Live?
If you're interested in seeing Marc perform live, check his calendar to see when he'll be appearing in a city near you!
Book Marc for Your Next Event
Marc Yaffee is ready to make your next event laugh-out-loud funny. Marc has numerous endorsements and personal testimonials. For more information, you can view his resume.
To book Marc, check out his contact page or call (707) 489-5561. You can also email him at info@bookmarcnow.com or connect with Marc directly via LinkedIn.